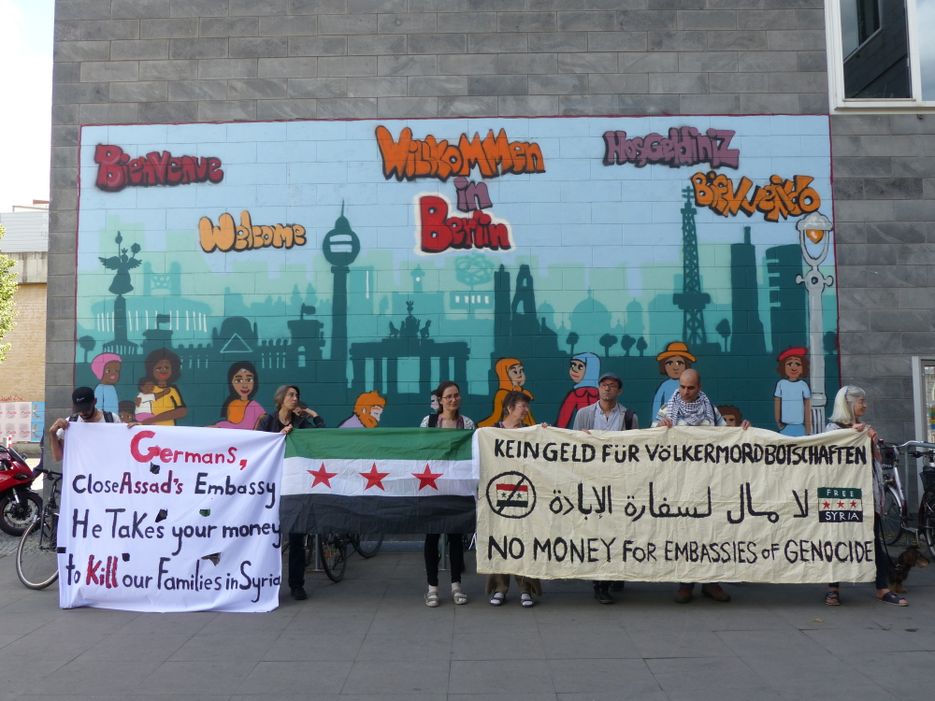 12. Oktober 2018 - Bauhütte Berlin-Kreuzberg
Berliner AktivistInnennetzwerk 4syrebellion lädt ein zum Planungstreffen für die Kampagne "Kein Geld für Völkermordbotschaften" am 12, Oktober 2018 um 19:00 Uhr in die Bauhütte im Besselpark (Besselstraße / Enckestraße).
Berlin activist network 4syrebellion invites to the planning meeting for the campaign "No money for embassies of genocide" on 12, October 2018 at 7 pm. Venue: Bauhütte at Besselpark (Besselstraße / Enckestrasse).
Planungstreffen für die Kampagne gegen die Nötigung von Geflüchteten aus Syrien, die syrische Botschaft zur Verlängerung der Pässe aufsuchen und Gelder zahlen zu müssen. Brainstorming -es nehmen Organisationen und Individuen Teil - macht mit und helft, diese unsägliche Praxis zu beenden!
Meeting to coordinate the campaign against German authorities forcing refugees from Syria to visit the Syrian embassy for renewal of passports and to pay money to Assad´s government. Different organizations, groups and individuals are involved - help us, with your networks or communities, to end this barbaric practice.
Netzwerktreffen / Network-meeting
Kampagne "kein Geld für Völkermordbotschaften" / Campaign: "Mo Money for Embassies of Genocide"
Freitag, den 2. Oktober ab 19:00 Uhr / Friday, October 12th at 7 pm
Veranstaltungsort / Venue:
"Bauhütte" im Besselpark /"Bauhütte" in the park at Besselstreet
Ecke/Corner Besselstr/Enckestr
Berlin Kreuzberg 10969 
Hintergrund / Backround:
Deutsche Behörden nötigen Geflüchtete aus Syrien, die syrische Botschaft aufzusuchen, um ihre Pässe verlängern zu lassen. Dies betrifft insbesondere Geflüchtete, die nicht als Flüchtlinge nach der Genfer Flüchtlingskonvention anerkannt sind. Für diese werden von der Ausländerbehörde nicht mehr automatisch Reisepässe für Ausländer als Ersatzdokumente ausgestellt. 
Der Syrische Staat verlangt für jeden Fall mehrere hundert Euro für die Verlängerung der Gültigkeit eines syrischen Passes. Dies ist Geld, welches direkt in die Kriegskasse des Regimes von Baschar al-Assad fließt. Menschen, die in Deutschland vor diesem Regime Schutz suchen, müssen nun auch noch Geld an das Regime bezahlen, welches sie und ihren Angehörigen verfolgt. 
Zudem bekommt das syrische Regime - bei vielen hunderttausend Syrerinnen und Syrern in Deutschland - auf diese Weise regelmäßig an Geldbeträge in dreistelliger Millionehöhe, obwohl der syrische Staat auf internationalen Sanktionslisten steht. 
Aktivistinnen in Berlin haben dagegen eine Kampagne gestartet. Am Freitag, den 13. Oktober wollen Sie im Rahmen eines Netzwerktreffens über dieses Thema informieren und Strategien diskutieren, diese Verwaltungspraxis deutscher Ausländerbehörden in Berlin und anderswo aufzuheben.
German authorities are forcing refugees from Syria to visit the Syrian embassy to extend their passports. This applies in particular to refugees who are not recognized as refugees under the Geneva Refugee Convention. For these group, passports for foreigners are no longer automatically issued as substitute documents by the immigration authorities.
The Syrian state demands for each case several hundred euros for the extension of the validity of a Syrian passport. This is money that flows directly into the war chest of the regime of Bashar al-Assad. People seeking protection from this regime in Germany must now also pay money to the regime that persecutes them and their relatives.
In addition, the Syrian regime - in the case of many hundreds of thousands of Syrians in Germany - regularly receives hundreds of millions Euro, even though the Syrian state is on international sanction lists.
On the other hand activists in Berlin have started a campaign. On Friday, October 13, they want to inform about this topic in a network meeting and discuss strategies to repeal this administrative practice of German immigration authorities in Berlin and elsewhere.